Informal and precarious workers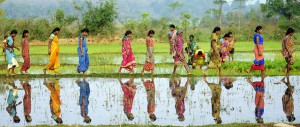 Most workers in the informal economy do not have access to social protection. In addition, many workers in precarious conditions are insufficiently protected. Expanding social protection coverage to these groups of workers can reduce their vulnerability, improve income security and health care access, enable them to plan ahead, and help facilitate their transition to the formal economy. The ILO Social Protection Floors Recommendation, 2012 (No. 202) makes explicit reference to workers in the informal economy. In addition, the ILO Transition from the Formal to the Informal Economy Recommendation, 2015 (No. 204) provides guidance for improving the protection of workers in the informal economy, and for facilitating transitions to the formal economy.
The extension of social protection to workers in the informal economy remains a formidable challenge in many countries with high rates of informality. However, some countries have made impressive progress in covering more workers through contributory schemes. Some countries have done this by including previously uncovered workers in existing schemes; adapting benefits, contributions and administrative procedures to take these groups' need into account; and by subsidizing contributions for those on very low incomes (e.g. social health insurance). In other countries, the extension of social security to larger groups of the population was done through a large-scale expansion of social protection mechanisms (e.g. social pensions) to previously uncovered groups, independently of their employment status, and largely financed through government revenue.
Human rights monitoring bodies have called upon States parties to take effective measures to ensure that informal workers are able to exercise their labour rights, including their right to social security without discrimination (e.g., Concluding Observations CESCR, E/C.12/PRY/CO/3 (CESCR, 2008); Concluding Observations CEDAW CEDAW/C/BIH/CO/4-5 (CEDAW, 2013) and CEDAW/C/DJI/CO/1-3 (CEDAW, 2011).
The Guiding Principles on Extreme Poverty and Human Rights explicitly call on States to "take specific measures to ensure that persons living in poverty, in particular women and those working in the informal economy, have access to social security benefits, including social pensions, which are sufficient to ensure an adequate standard of living and access to health care for them and their families" (Principle 86 (c)).
For more topical information on domestic workers see here and on workers in the arts and entertainment sector see here.
Photo credit: "India 3 Gender" by Trocaire (CCBY 2.0 via Flickr).