A Majority of the World's Domestic Workers Lack Social Protection, Says New ILO Study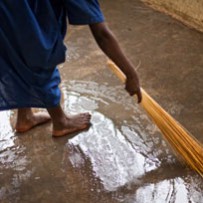 Social Protection for Domestic Workers, a new ILO study in the Social Protection Policy Paper series, finds that 60 million out of the 67 million domestic workers in the world (roughly 90 per cent) do not have access to social protection.
Domestic workers generally are considered a "hard-to-reach" demographic by social protection practitioners and researchers. Fifty-five million of the people employed in this sector are women who already face social and economic vulnerability, making it crucial to extend coverage to promote gender equality and fight poverty.
Barriers to accessing social security coverage include legal exclusion, lack of strategies to cover multi-employer workers and systems or programmes that have inadequate procedures for registering and collecting contributions from these workers.
Domestic workers who are also migrants also face higher levels of discrimination, such as being unable to access social protection programmes that are offered to non-migrant workers in certain countries.
The study does find, however, that extended coverage to these workers is affordable even in low- and middle-income countries. While there is a trend towards worldwide coverage, challenges still remain in achieving universal access.
Read this news item in English, German, Spanish, French, Italian, Japanese, Dutch, Russian and Chinese.
Photo credit: Bryan Wolfe (via ILO).