Legal and institutional frameworks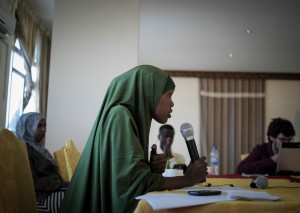 Appropriate legal and institutional frameworks are of paramount importance to the realization of the right to social security.
An appropriate legal framework establishes entitlements in a clear and transparent way, and will allow persons who are entitled to benefits to make claims and obtain redress in case of a violation of their rights. It will also protect people from arbitrary or discretionary selection and decision making facilitate access to social protection and help guaranteeing equality of treatment.
Legal and institutional frameworks are also essential for establishing the roles and responsibilities of the different actors involved in designing, administering, delivering, and enforcing social protection systems. It is therefore essential to the effective functioning of the system and serves to avoid overlaps, duplications, multiplications or gaps.
Photo credit: "2013_10_09_Media_Law_Consultation_027" by AMISOM Public Information (CCBY 2.0 via Flickr).