Effective access to benefits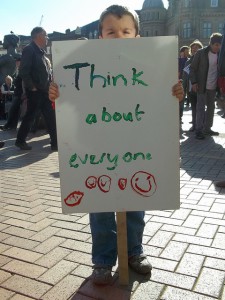 Human rights standards require that social protection systems are accessible, meaning that administrative and physical obstacles must not prevent the poorest and most marginalized people from benefiting.
When those living in poverty also face additional and overlapping obstacles due to age, disability, ethnicity, geographical location or other factors, they often experience further disproportionate disadvantages in accessing social protection programmes.
Photo credit: "Birmingham protest included young Thomas Bairstow, who attended with his mother Mary and his brother Aaron who has learning difficulties" by RNIB (CCBY 2.0 via Flickr).