News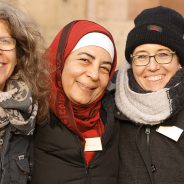 UNRISD and the University of Geneva will host an official side event at the 36th session of the Human Rights Council on 20 September. The event, Overcoming Refugee and Migrant Precarity: What Role for Social and Solidarity Economy?, will explore the role of SSE in:
promoting the human rights of migrant and refugee populations
fostering the social inclusion and sustainable livelihoods of migrant and refugee populations
supporting the developmental and human rights-related aspects of the Global Compact for Migration
Speakers include experts from international organizations, governments and civil society.
This side event is sponsored by the Permanent Mission of Greece to the United Nations Office at Geneva.
The event also serves to introduce Social and Solidarity Economy, Urban Communities and the Protection of Vulnerable Groups, a new UNRISD project in collaboration with the University of Geneva (funded by Swiss Network for International Studies), and to network with stakeholders who wish to be kept abreast of this research.
For more information event page on the UNRISD website.