Highlighting FAO's Work on Social Protection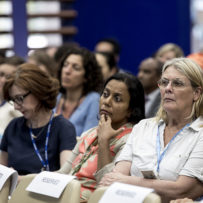 FAO, Social Protection and Human Rights' partner of the month, works to achieve food security for all and to make sure people have regular access to enough high-quality food to lead active, healthy lives.
Social protection is an important element of FAO's work. The organization's three main goals are a) the eradication of hunger, food insecurity and malnutrition; b) the elimination of poverty and the driving forward of economic and social progress for all; and c) the sustainable management and utilization of natural resources, including land, water, air, climate and genetic resources for the benefit of present and future generations.
The 159th FAO Council took place last month in Rome. The Council exercises functions dealing with the world food and agriculture situation and related matters, as well as current and prospective activities of the Organization, such as its Programme of Work and Budget. On 4 June, the FAO hosted FAO's Role in Social Protection: Innovation to Achieve Zero Hunger, Reduce Poverty and Build Resilient Communities, an official side event. The event brought together representatives from FAO's partners in social protection to discuss important achievements made thus far – and the way forward – to continue to increase rural prosperity, food security and resilience through the scale-up of social protection systems. Click to see video and photos from the side event. The report from the Council session is available here.
FAO also has a series of policy papers on human rights-based social protection to address the worldwide gap in social protection coverage as it relates to food security and nutrition — 70 percent of the world's population still lacks access. Watch Benjamin Davis, Interim Strategic Programme Leader of the FAO Strategic Programme on Rural Poverty Reduction and Natalia Winder Rossi, Social Protection Team Leader of the FAO Social Policies and Rural Institutions Division explain how enhancing social protection systems in rural areas can contribute to reducing poverty and ending hunger. Visit the FAO Policy Portal to learn more and access all of the policy papers.
Find other FAO resources related to a HRBA to social protection including infographics, policy papers, guidance notes and synthesis reports on the platform.
Photo credit: FAO (© via Flickr).