Care responsibilities and unpaid care work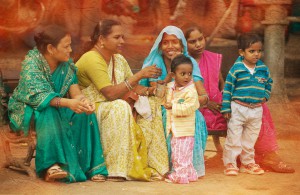 From a human rights perspective, social protection programmes should recognize the role of women as caregivers and the burden that this role can create. For example, when women are made responsible for complying with conditions attached to participation in a conditional cash transfer (CCT) programme (for example, taking children to medical check-ups or ensuring they go to school) or when they are required to travel (sometimes long distances) to collect the benefits or to participate in various stages of the programme, their domestic unpaid workload increases. If this is not expressly addressed in the programme design, the increased burden on women may further undermine their own welfare disincentivizing them from participating in the programme.
Sometimes, programmes that have not been designed with women's care responsibilities in mind can even have a detrimental impact on girls' schooling. For example, when a programme increases the time the mother spends away from home, girls are then required to assume their motherss responsibilities such as cooking or collecting water.
Photo credit: "Indian Family Waiting on the Bus" by Trey Ratcliff (CCBY 2.0 via Flickr).