FAO and UNICEF Host International Conference on Social Protection, Fragility and Forced Displacement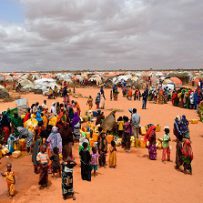 FAO, UNICEF, the World Food Programme, the Ministry for Foreign Affairs of Finland, the Swedish International Development Cooperation Agency and other development organizations and governments hosted a conference on 28 and 29 September in Brussels, Belgium. The event, the International Conference on Social Protection, Fragility and Forced Displacement, was attended representatives from international organizations, governments and bilateral institutions.
Conference participants discussed the role social protection plays in contexts of extreme fragility and forced displacement; particularly in improving the living conditions, livelihoods and social inclusion of affected populations including children, rural populations, refugees and people who are internally displaced. The conference also highlighted the opportunity for humanitarian responses to help create or expand existing social protection systems.
The role of social protection in saving lives and livelihoods was discussed throughout the conference, as well as the need for a comprehensive approach which ensures effective between with social services and livelihood promotion. Participants also discussed the challenges of ensuring adequate support for displaced and host communities.
Conference attendees affirmed their commitment to the sustainable development agenda's goals of "leaving no one behind" and "working towards bridging the gap between humanitarian aid and development programming" through social protection.
All sessions are available on SocialProtection.org's YouTube channel.  A press release is available here. Follow #SPConf17 for future updates.
Photo credit: "2017_06_12_Doolow-6" by UNSOM Somalia (CCBY 2.0 via Flickr).