ESCWA launched an Expert Group on Disability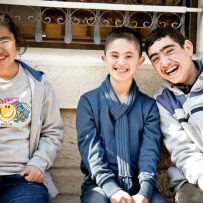 On 20-21 September, ESCWA launched the its Inter-Sessional Expert Group on Disability. Policy makers from countries across the region, including Iraq, Lebanon, Mauritania and Yemen attended.
Read more about the event and the Expert Group on ESCWA's website.
Photo credit: "Ashtar is the best days of the week!, Arwa, Reeda, Amer. Ramallah, Palestine." by Erik Törner (CCBY 2.0 via Flickr).