ESCWA is Hosting an Expert Meeting on Disability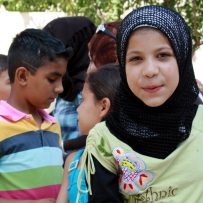 The UN Economic and Social Commission (ESCWA) will hold an Expert Group Meeting (EGM) on 11-12 April in Beirut, Lebanon to discuss its forthcoming publication, Disability in the Arab Region 2017: strengthening social protection for persons with disabilities. The EGM will provide an overview of the draft publication and review with participants the information contained therein.
Focal points on disability from the ESCWA Member States will be invited to participate, as well as local, regional and international experts on the 2030 Agenda for Sustainable Development, social protection and disability. The publication, which will be an updated version of ESCWA's previously released Disability in the Arab Region: an overview , will be released in December 2017.
The press release for the event is available here.
Photo credit: "IMG_9739" by mozzoom (CCBY 2.0 via Flickr).