March Highlights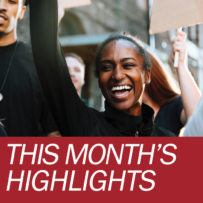 Women's Rights, Human Rights
Tuesday 8 March is International Women's Day (IWD). The 2019 theme is Think Equal, Build Smart, Innovate for Change.
Achieving a gender-equal world requires social innovations that work for both women and men and leave no one behind. From urban planning that focuses on community safety to e-learning platforms that take classrooms to women and girls, affordable and quality childcare centres, and technology shaped by women, innovation can take the race for gender equality to its finishing line by 2030.
In celebration of International Women's Day, UNRISD is hosting an official side event of the 40th session of the Human Rights Council. The event, New Technologies and Human Rights: The Gender Dimension in Education and Work, will be live-streamed on UNRISD's Facebook page. Learn more by visiting the event page.
Follow Women's Day developments on Twitter by using #IWD2019 and #WomensDay, and follow UN Women's account: @UN_Women.
Commission on the Status of Women
The Commission on the Status of Women is an ECOSOC event dedicated to promoting gender equality and empowering women. It is "instrumental in promoting women's rights, documenting the reality of women's lives throughout the world, and shaping global standards on gender equality and the empowerment of women." CSW63 will take place in New York from 11-22 March.
The priority theme for 2019 is Social protection systems, access to public services and sustainable infrastructure for gender equality and the empowerment of women and girls.
Social protection and gender equality are mutually reinforcing. Equity in access to goods and services ensures better outcomes for women and girls, and gender-transformative social protection policies are key to achieving equality.
Learn more about the gender dimension of human rights-based social protection on our Gender Perspective Key Issues page.
The Human Rights Council is in Full Swing
The 40th Regular Session of the Human Rights Council began on 25 February and will run until 22 March.
The Geneva-based Council is an inter-governmental body under the auspices of the Office of the High Commissioner for Human Rights that is responsible for promoting, protecting and strengthening human rights around the world, as well as addressing and making recommendations on human rights violations.
World Water Day
22 March is World Water Day, "an international observance and an opportunity to learn more about water related issues, be inspired to tell others and take action to make a difference." The 2019 theme is Leaving No One Behind.
Access to adequate water is a basic human right and an integral part of a coordinated, comprehensive and sustainable social protection system. However, corporate activity has had a major impact on the availability of water.
Sustainable Development Goal 61 means that governments and other stakeholders — notably the private sector — will need to take transformative steps to change production patterns to environmentally sustainable ones that prioritize the right of all to water. Doing so will require developing green infrastructure, planting new forests, restoring wetlands and other measures to repair the water cycle and improve the lives of everyone.
UNRISD and Water Supply & Sanitation Collaborative Council (WSSCC) are hosting Empowering Women and Girls through Access to Public Services, including Water, Sanitation and Hygiene (WASH), an official side event at the CSW63. This event draws attention of the importance of gender-transformative approaches to WASH in the context of the Agenda 2030.
A Day to Be Happy
20 March is the International Day of Happiness. The UN General Assembly's Resolution 66/281 declared the pursuit of happiness a fundamental human goal, recognizing the relevance of happiness to all around the world. The resolution also recognizes the need for equitable, sustainable and inclusive economic development to achieve this goal.
Ensure availability and sustainable management of water and sanitation for all ↩