UNAIDS is Hosting a Discussion on HIV-Sensitive Social Protection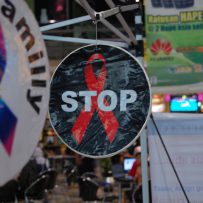 UNAIDS, ILO, The Global Fund and UNRISD will host a panel discussion, Right to Health: Right to HIV-Sensitive Social Protection, on 1 December.
This World AIDS Day event will assess the current status of HIV/AIDS-related social protection, as well as challenges and opportunities in extending coverage as part of efforts to reach Sustainable Development Goal 3, "[ensuring] healthy lives and promote well-being for all at all ages". Experts at this event will build on the findings of the ILO's World Social Protection Report 2017-19, specifically addressing social protection's role in the AIDS response.
UNAIDS' 2016-2021 Strategy and the Political Declaration on HIV and AIDS, which was adopted by the UN General Assembly in 2016, pay particular attention to the importance of human rights-based social protection in reaching SDG 3, and in particular Target 3.3,  "[ending] the epidemics of AIDS, tuberculosis, malaria and neglected tropical diseases and combat hepatitis, water-borne diseases and other communicable diseases".
This event aims to contribute to better knowledge and understanding around HIV-sensitive social protection, strengthen collaboration between stakeholders, and discuss ways to ensure that people and communities living with and affected by HIV are not left behind in the sustainable development agenda.
Panellists
Vama Jele, Executive Director, Swaziland Mineworkers Association
David Chipanta, Senior Advisor, UNAIDS
Valerie Schmidt, Deputy Director, SOCPRO, ILO
Opening Remarks
Luis Lourez, Deputy Executive Director, UNAIDS
Deborah Greenfield, Deputy Director General, ILO
Moderator
Paul Ladd, Director UNRISD
The event will take place from 15.00-16.30 in Salle V at the ILO (Route des Morillons 4, Geneva, Switzerland).
Photo credit: "Stop HIV/AIDS" by Ikhlasul Amal (CCBY 2.0 via Flickr).