UN Women Releases 2018 Flagship Report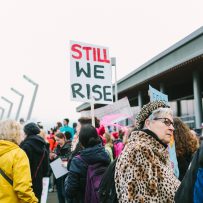 On 14 February, 2018, UN Women launched their 2018 Flagship Report, Turning Promises into Action: gender equality in the 2030 Agenda for Sustainable Development in New York. 
The adoption of the 2030 Agenda and the SDGs in 2015 signalled a renewed commitment by governments to ensure universal human rights for all, including the rights to social protection and gender equality. While there has been some progress towards reaching the SDGs, as this new report points out, this progress has been largely uneven. UN Women Director notes in the forward that the report "uncovers yawning gaps between women and girls who, even within the same country, are living worlds apart. For example, in Nigeria, women and girls from the poorest households are nearly five times as likely to be married before the age of 18 as those from the richest households". Similarly, black and Native American women in the United States are twice as likely to live in poverty as white women.
This report calls for adding gender-specific and gender-transformative targets to each of the SDGs, and improving statistics and analysis to ensure that no woman or girl is left behind as we transform our world.
Read the press release and download the report.