The High-Level Political Forum Took Place from 10-19 July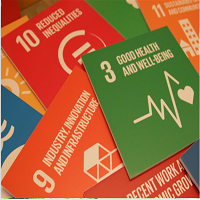 The United Nations High-Level Political Forum (HLPF) took place from 10-19 July in New York.
The Forum, convened annually by ECOSOC, conducted an in-depth review of six of the Sustainable Development Goals under the theme Eradicating poverty and promoting prosperity in a changing world. The Goals reviewed for this year's HLPF were:
Goal 1. End poverty in all its forms everywhere
Goal 2. End hunger, achieve food security and improved nutrition and promote sustainable agriculture
Goal 3. Ensure healthy lives and promote well-being for all at all ages
Goal 5. Achieve gender equality and empower all women and girls
Goal 9. Build resilient infrastructure, promote inclusive and sustainable industrialization and foster innovation and
Goal 14. Conserve and sustainably use the oceans, seas and marine resources for sustainable development.
During the Forum, international organizations and civil society organizations held side events. Among the side events were:
Accelerating Sustainable Development: Regional Assistance for Translating the SDGs into National Action, hosted by the Regional Commissions (ESCAP, ECLAC, ECE, ECA and ESCWA); Science – Technology – Innovation: Closing the Gender Gap to Meet the SDGs, hosted by WIPO, UNESCO and UN Women; the ILO event Global Partnership on Universal Social Protection: Ending Poverty by 2030; and Bringing Children to the Table: Children's Contribution to the Implementation of the SDGs, hosted by Permanent Mission of Chile, Save the Children, World Vision, Plan International, SOS Children's Villages and Child Fund.