Why Human Rights-Based Social Protection is Needed in Climate Change Responses: A Just Transition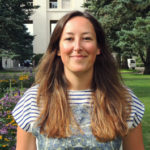 The Intergovernmental Panel on Climate Change's recent report, Global Warming of 1.5°C, is a powerful reminder of the need for rapid climate action a transition towards low-carbon development to prevent catastrophic climate change. As each new assessment of climate change's impacts and risks reveals more alarming information than the last, opposition to rigorous climate policies continues.
Rapid decarbonization will require significant changes to today's capitalist economic system and shutting down or transforming historically powerful industries and sectors. Conventional energy stakeholders often public opinion against strict emissions reductions policies using the rhetoric of energy security and negative impacts on jobs to argue for slow transitions. The fear of job loss is a powerful narrative that has hindered proactive transitions in the past. According to the Just Transition Research Collaborative  "Just Transition—the idea that justice and equity must form an integral part of the transition towards a low-carbon world—is increasingly being mobilized both to counter the idea that protecting the environment and protecting jobs are incompatible, and to broaden the debate to justice-related issues such as the kinds of jobs and societies we envision for the future". This commentary highlights the role of human rights-based social protection in both ensuring that people do not lose their livelihoods during the transition to a low-carbon economy, as well as ensuring that the people who work in carbon-intensive industries have opportunities for decent work as industries change.
Social protection can soften the impacts of transitions
Social protection policies and programmes, such as reskilling or training programmes and wage subsidies for affected workers, can soften the blow for those whose jobs are on the line as a result of transitioning to renewable energy.
In Germany's Ruhr region, for example, trade unions were actively involved in negotiating transition conditions for coal miners who were affected by economic decline and the shutting down of hard coal mines which began in the late 1950s, with the last mine closing in 2018. These negotiations resulted in compensation and transitional measures for the affected miners. The measures were very targeted, however, and did not provide solutions for the region and its communities as a whole, and unemployment outside of the mining sector soared. Relying on targeted rather than universal policies also bears the risk of perpetuating existing inequalities as illustrated by the phasing out of coal in the Canadian case: in communities where jobs depend on coal mining both directly and indirectly, miners who are predominantly male and white have much higher incomes than workers in the service sector who are mostly women and often immigrants. Measures aimed exclusively at directly affected workers would only exacerbate horizontal inequalities rather than facilitate a universally Just Transition.
Sustainable development that prioritizes low-carbon emissions relies on making the right choices in different sectors. Integrating redistributive measures to such transitions is paramount given that the most marginalized and vulnerable people are the most impacted by climate change (while being the least likely to contribute to it), and yet are the least likely to benefit from the opportunities that a transition offers. A Just Transition must work for unionized coal miners as well as for informal workers (even as we transition to formality), and for service providers who are affected by changing economies and climate change.
Participatory decision making for a Just Transition
A broad approach to climate justice requires solidarity, participation in decision-making processes, comprehensive social policies and strong public institutions to leave no one behind. Progressive and transformative policies can further tackle root causes of inequalities and overcome systemic injustices and discrimination built into the current political economy.
In this context, it is important to question whose ideas and values are in the driving seat and how this influences transition pathways. In many countries, neoliberal thinking and policies persist; constraining the role of public interventions and spending that aim to regulate markets to foster equity and sustainability. A strong regulatory policy framework is needed to provide businesses and organizations with an enabling environment for a fast transition to low-carbon development that ensures the fair distribution of benefits and costs. It is increasingly recognized that climate change will have an impact on the full enjoyment of human rights — the UN Special Rapporteur on human rights and the environment released a report in 2016 detailing States' obligation to provide a safe, clean, healthy and sustainable environment. In a 2018 report to the UN General Assembly, the Special Rapporteur argued that that due to the ratification of international and regional human rights instruments; such as the African Charter on Human and People's Rights, the American Convention on Human Rights and its San Salvador Protocol; over 150 States have "a binding legal obligation to respect, protect and fulfil the right to a healthy environment".
Governments must recognize their responsibilities as primary duty bearers and develop policies that guarantee everyone the enjoyment of the human rights to social protection, decent work and an adequate standard of living as recognized by the International Covenant on Economic, Social and Cultural Rights (ICESCR 1966). Additionally, the Committee on Economic, Social and Cultural Rights has pointed out "State [parties'] … obligation to mitigate the effects of climate change in order to safeguard the enjoyment of rights protected by the ICESCR".
Identifying and adopting solutions that realize both the right to decent work and the right to a healthy environment is at the heart of the Just Transition debate as the shift towards low-carbon economies will inevitably impact the world of work. While there is evidence for net job gains resulting from climate action, the International Labour Organization predicts that fossil fuel-dependent sectors and regions will experience job displacement. A rights-based approach to social protection will be instrumental in overcoming the tensions that persist between protecting jobs and protecting the climate. At the moment, the most ambitious and progressive plans for decarbonization are found at the local level, often rooted in civil society movements and community-based organizations. It is time for governments to step up their game if they take tackling climate change seriously.
This commentary is based on findings from UNRISD's Research Project, the Just Transition Research Collaborative.
ABOUT THE AUTHOR
Dunja Krause is a Research Officer at the United Nations Research Institute for Social Development (UNRISD) where she leads the work on just transitions to low-carbon development and climate change adaptation and resilience. A geographer by training, she has specialized in development geography, risk and vulnerability research, and climate justice. Prior to joining UNRISD, she spent 5 years at the United Nations University Institute for Environment and Human Security (UNU-EHS) in Bonn, Germany, where she worked on vulnerability assessments to natural hazards, the development of a global risk index, and the evaluation of climate change adaptation options in the Vietnamese Mekong Delta.