It's World AIDS Day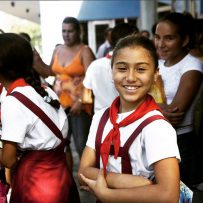 Today is World AIDS Day. This year's theme is Hands up for #HIVPrevention.
On 30 November, UNAIDS held a special event, Moving Forward Together: Leaving No One Behind, in New York to mark the occasion.
The event honoured United Nations Secretary-General Ban Ki-moon's legacy and commitment to leaving no one behind in the global response to HIV.
Watch or read UNAIDS Secretary-General Michel Sidibé's message for World AIDS Day and find out more about the 2016 campaign here.
To learn about HIV and social protection, read David Chipanta's expert commentary, Investment, Commitment and Innovation: Fast-Tracking Social Protection to End AIDS.
Photo credit: UNAIDS (via Instagram).