The United Nations is Holding a Forum on Youth and Human Rights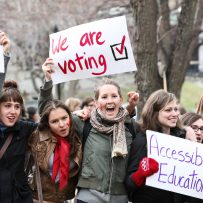 In 2015, the Human Rights Council established a Forum on Human Rights, Democracy and Rule of Law. The Forum's purpose is to "provide a platform for promoting dialogue and cooperation on issues pertaining to the relationship between these areas" and to "identify and analyze best practices, challenges and opportunities for States in their efforts to secure respect for human rights, democracy and the rule of law".
The inaugural Forum will take place on 21 – 22 November. The theme is Widening the Democratic Space: the role of youth in public decision-making.
Panel discussions will be held on:
Creating an enabling environment for the effective participation of youth in public decision-making;
From formal to transformative participation of youth;
Youth participation in sustainable development and human rights protection; and
The role of youth in shaping international and regional development agendas.
Special attention will be paid to discrimination that impedes young women and girls' participation in public decision making, indigenous and minority youth, youth in rural areas, migrant, stateless, internally displaced, asylum seeking and refugee youth, and youth with disabilities.
To learn more about youth and social protection, visit our Key Issues page and also visit Not Too Young to Run, a campaign to lower the legal age of candidacy for public office and increase young people's decision-making power.
Photo credit: "McGill student vote mob 2011" by Adam Scotti (CCBY 2.0 via Flickr).