UNICEF and FAO Have a New Book Out on Cash Transfers in Sub-Saharan Africa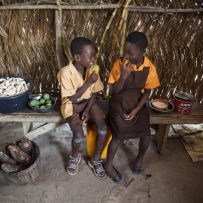 From Evidence to Action: The Story of Cash Transfers and Impact Evaluation in Sub Saharan Africa describes efforts to expand the evidence base on unconditional cash transfers in eight countries across the region: Ethiopia, Ghana, Kenya, Lesotho, Malawi, South Africa, Zambia and Zimbabwe. Cash transfers have led to a broad range of social and productive impacts improving families lives. Documented results have been collected through the experience of the Transfer Project, a joint effort of UNICEF, FAO, University of North Carolina at Chapel Hill, Save the Children UK, and national governments and research institutions in each country. The strong collaboration among development partners has led to the improved knowledge and practice on social cash transfers in Africa.
Launch Event
On Tuesday, November 15, the Mail & Guardian's Critical Thinking Forum will host Social Cash Transfers: Changing Lives of African families?  The event will bring together government representatives, UN agencies and researchers to provide insight into what's working with national social protection programmes across the region.
Time: 9.00am – 1.00pm (GMT+2)
Venue: The Capital 20 West, 20 West Road, Morningside, Sandton, Johannesburg, South Africa
Watch the Forum live.
Photo credit: ©FAO/Ivan Grifi.