UNAIDS Just Launched a New Report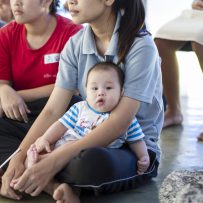 On 21 November, UNAIDS launched its latest report, Get on the Fast-Track: the life-cycle approach to HIV,  in Windhoek, Namibia. According to the report, the number of people accessing life-saving medicines increased significantly in 2016, thanks to the Fast-Track approach. Between January and June, an additional one million people (including 910,000 children) were able to access treatment. The report notes the role that social protection plays in reducing HIV risk and improving treatment adherence.
Despite strides made in ending the AIDS epidemic, girls and women between the ages of 15-24 remain vulnerable to infection. According to UNAIDS Executive Director Michel Sidibé, they face a triple threat: "They are at high risk of HIV infection, have low rates of HIV testing and have poor adherence to treatment. The world is failing young women and we urgently need to do more".
Programming — including social protection policy — to end AIDS requires the entire life cycle to be taken into account. Improved prevention methods for adolescents and adults, access to medicines that prevent mother-to-child transmission of the virus, testing for pregnant women and babies, and addressing long-term side effects of HIV treatment in older people should all be taken into account by policy makers and practitioners to reach SDG Target 3.3, ending AIDS by 2030.
Download UNAIDS' Fact Sheet.
Read David Chipanta's expert commentary, Investment, Commitment and Innovation: Fast-Tracking Social Protection to End AIDS, to learn more.