November Highlights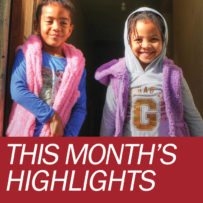 November Highlights
Children's Rights are Human Rights
20 November is Universal Children's Day. This date marks the anniversary 1959 adoption of the Convention on the Rights of the Child. The Convention, which is the most widely ratified human rights treaty, calls on states to ensure that all children's rights, including the right to social protection, are respected.
Read UNICEF's 2017 State of the World's Children: Children in a Digital World to learn more about children's human rights and social protection. Previous years' reports are also available.
Environmental Sustainability and Social Protection
COP 24
The 24th UN Climate Change Conference (COP24) will take place in Katowice, Poland from 3-14 December. At 2015's COP21, 187 states signed the Paris Agreement, in which they all committed to reducing atmospheric emissions in 2020.
Social protection and climate change are inextricably linked. The world's poor, while contributing the least to climate change, are also the most affected by natural disasters due to their dependence on natural resources. Sustainable development requires recognizing and rectifying the social and environmental harms caused by anthropogenic activity, particularly by corporations and the wealthy.
World Tsunami Awareness Day
5 November is World Tsunami Awareness Day. As the planet goes through climate change, the risk of people and other species being affected by tsunamis could greatly increase. According to the United Nations Office for Disaster Risk Reduction (UNISDR), a growing number of people live and work in tsunami risk zones.
UNISDR's Sendai Framework for Disaster Risk Reduction is a non-legally binding agreement, endorsed by the UN General Assembly in 2015, which asks States to commit to achieving the following outcome:
"The substantial reduction of disaster risk and losses in lives, livelihoods and health and in the economic, physical, social, cultural and environmental assets of persons, businesses, communities and countries".
Understanding tsunami risk can help reduce economic shocks. Social protection systems can play a huge role in allowing those affected by tsunamis, as well as other disasters, in being able to maintain a decent standard of living in the aftermath.
Follow #WorldTsunamiDay developments on Twitter.
World Toilet Day
19 November is World Toilet Day.
When nature calls… we need a toilet. But billions of people don't have one. This means human faeces, on a massive scale, is not being captured or treated – contaminating the water and soil that sustain human life.
We are turning our environment into an open sewer.
We must build toilets and sanitation systems that work in harmony with ecosystems.
World Toilet Day is about nature-based solutions to our sanitation needs.
When nature calls we have to listen and act.
The ILO's R202 – Social Protection Floors Recommendation, 2012 (No. 202) calls for States to provide universal access to nationally defined goods and services, which could be understood to include access to adequate sanitation.
To learn about the role of civil society in ensuring accountability of the State in ensuring access to sanitation, read Monitoring Water and Sanitation to Reduce Inequalities in Kenya by Collins Liko.
Ending Gender-Based Violence and Violence Against Women
25 November is the International Day for the Elimination of Violence Against Women, which kicks of the civil society campaign 16 Days of Activism against Gender-Based Violence.
According to the UN, "35 percent of women and girls globally experience some form of physical and or sexual violence in their lifetime with up to seven in ten women facing this abuse in some countries". Responding to Goal 5 of the SDGs, achieving gender equality and empower all women and girls requires policies that attack root causes of violence against women. Goal 5's specific Targets include ending all forms of discrimination,1 eliminating all forms of violence in public and private spheres2 and eliminating harmful practices such as female genital mutilation and early marriage. 3
When designing social protection systems, policy makers should take into account the different needs of men, women and non-binary people to ensure that programmes contribute to gender equality rather than reinforce existing gender roles. Gender-transformative design can play an important role in ending violence by addressing underlying causes of discrimination against women, such as economic dependence on men, lower levels of education and cultural norms that impact their ability to be decision makers in the household and community.
To learn more about the role of social protection in ending violence against women and girls, see the following resources:
Photo credit: "Children" by Jonathan Gill (CCBY 2.0 via Flickr).
Target 5.1 ↩
Target 5.2 ↩
Target 5.3 ↩