ILO Releases Social Protection Volumes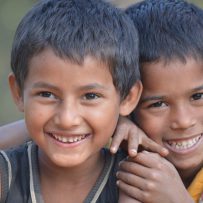 The ILO's Social Protection Department recently released three volumes of Social Protection Floors. The reports "present best practices and experiences from countries that are useful for South-South learning, for practitioners and to provide the basis for more informed policy-making".
Volume 1, Universal Schemes, draws on experiences from countries including Argentina, Lesotho and Thailand. Volume 2,  Innovations to Extend Coverage looks at social protection for migrants, social protection in the context of climate change, and rural employment. Volume 3, Governance and Financing, examines mechanisms to build social protection floors in countries including China, Colombia and Zambia.
Learn more about the Social Protection Department.
Photo credit: "Children" by Moin Uddin (CCBY 2.0 via Flickr).